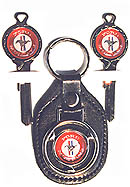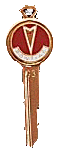 About Keys


Many styles of keys were produced in the 50's and 60's. White gold, yellow gold, nickel, and brass were used. Some keys even had diamonds and rubies. Many companies made different keys, but they are no longer produced. What we have is what is left over from the original production runs.

I accidentally found the Emblem Keys. They were being stored in a warehouse by a major key company who quit production over 25 years ago. Production was stopped when the price of gold started to go up from $30 an ounce to over $400 an ounce. Manufacturing prices increased which made the keys no longer profitable to produce.
Many car dealers purchased these gold plated keys and cut them and gave them to customers.

In 1989 I negotiated a deal and purchased all of the remaining inventory. These are real "collector items." In the past 30 years I have also bought out many dealers and vendors of keys, and I have a wide variety of keys but some in very limited amounts. These keys add to the beauty and opulence of the AMERICAN DREAM MACHINE!

EMBLEM KEY - "CLASSIC KEY" 10k white gold over heat-treated brass with a crystallized emblem. With many different emblems to choose from, these are the best every day keys. They are very popular!

ENAMELED KEY - 10k white gold over heat-treated brass with a painted insert. The insert was painted, baked, and then applied to the key head. Only 11 models available. These are very rare.

CREST KEY - Yellow gold plated over brass. The design or logo is cast in the head of the key. Since yellow gold is soft, it should not be put on a key ring with other keys.

SILHOUETTE KEY - Yellow gold over brass. The logo or design is cut out of the key head. It, too, should not be put on a key ring with other keys.

DECO KEY - A very special yellow gold Cadillac key (B48A blank). It fits 1966 & 1967 Cadillacs and will fit some others. Inquire.
N.O.S. (New Old Stock) keys are the Original Keys that came with your vehicle. If you have your owner's manual, please look in the first couple of pages to see your keys pictured. Most N.O.S. (new old stock) keys are sold as a set, but some can be purchased separately depending on the particular vehicle.

We carry a complete line of white and yellow gold plated keys and original (N.O.S.) New Old Stock keys for American Classics from 1900 to date. Call for current pricing.
330-376-8181

Our "DELUXE CLASSIC KEYS" are 10k white gold plated keys with your car's logo on them and are very popular. They are the most versatile keys for every day use. We offer "Deluxe Classic Keys" for almost all American cars and trucks with a matching leather key fob. These can be purchased as a three piece set (ignition key, trunk key, and matching leather key fob). Call for current price. U.S. shipping and handling is $6.95 on the total order. (Additional postage for orders outside the U.S.A.) These keys are featured in the front color section of Hemmings Motor News. We also belong to over fifty car clubs throughout the United States, and you may have seen our display ads or classified ads in one of these publications. If requested, we can FAX or email you a picture of your particular keys.

Please let us know if you are looking for fancy keys or the original keys for your car. We do have the original "Briggs & Stratton Keys" with the knockouts that can be stamped and cut to code for the purist and for those individuals who want them for judging specifications. We also stamp keys for other makes. We carry Hurd, Basco, Clum, Yale, Yale Junior, and many other original keys.

We offer a complete locksmith service. We can recode the cylinder for you with complete new pins, wafers, springs, and face caps. We have thousands of lock cylinders in stock including, ignition, door, trunk, spare tire, and many others in stock. If you are going to have a handle re-chromed, PLEASE SEND IT TO US FIRST. We will disassemble it for you Before the chrome plating ruins the cylinder. DO NOT GET ANY PLATING DONE WITH THE CYLINDER IN THE HANDLE.

We have bought out many vendors over the decades and most of this inventory is not categorized or sorted. Please let me apologize ahead of time if I do not get back to you right away. We will keep your request on file. With time and effort I am usually able to locate a specific item you are looking for.

Your Key Friend,
Joey Jesser, The Keyman